2021 Deadline Club Awards Winners
In addition to the awards announcement, the virtual program orchestrated by Betsy Ashton included the scholarship recipients, Robert Greenman Award, a conversation between Julie Pace and Kimbriel Kelly, along with a look back at those journalism lost in 2020.
View the full awards ceremony in the video below and the list of awards finalists here.
Below is the full list of winners, including judges' comments and reactions across social media. See the full list of this year's judges here.
1. Newspaper or Digital Beat Reporting – Janet Adamy, The Wall Street Journal, "Abortion, Guns and Trump"
"Engaging writing, solid reporting and a surprising reveal. This is a story about much more than politics in America – it touches upon so many of the issues we grapple with as a country. And it was a pleasure to read."
2. Newspaper or Digital Feature Reporting – Joseph Goldstein, The New York Times, "They Shared a Bunk Bed Growing Up. Both Were Killed by the Police."
"With his powerful reporting and compelling narrative, New York Times reporter Joseph Goldstein conveys an immigrant mother's anguish and lays bare the fault lines in our criminal justice system with empathy and nuance. Goldstein masterfully chronicles the downward spiral and death of one son, which set in motion the death of another in this gut-wrenching and horrifying story."
3. Newspaper or Digital Spot News Reporting – Jennifer Jacobs, Bloomberg News, "Covid Comes to Donald Trump's White House"
"COVID and the presidential election were the two biggest stories of 2020, and the news about Hope Hicks falling ill with COVID marked a key moment in both of those narratives. In a White House obsessed with obfuscating the facts, Bloomberg News and Jacobs managed to uncover a truth that immediately dominated the national news and within hours snowballed into even bigger news with Trump's tweet about also having COVID himself."
4. Newspaper or Digital Enterprise Reporting – Suzy Khimm, Daniella Silva, Nirma Hasty, Andrew W. Lehren and Sawyer Click, NBC News Digital, "Lured to America – Then Trapped"
"This is the kind of reporting that inspires desperate cries for reform. A data-driven analysis on H-2A visa labor violations revealed a troubling trend that the NBC News Digital team combined with shoe leather reporting and a strong visual package to build a gripping narrative. The team revealed an exploitative immigration and labor framework that has led to inhumane living conditions and indentured servitude being a critical element of the American economy."
Exciting stuff! One of the most complicated projects I've worked on. Also one of the very first projects I worked on!@joemurph was a trustworthy guide through the complex visa data involved here https://t.co/JZ4yDJiTOG

— Sawyer Click (@sawyerdabear) May 18, 2021
5. Newspaper or Digital Local News Reporting – David M. Schwartz, Jeffrey Basinger and Paul LaRocco, Newsday, "The Grumman Plume: Decades of Deceit"
"This ambitious project was a public service, tracing decades of corporate malfeasance and its impact on a small community. In addition to its long-form text pieces, Newsday provided its audience with an impressive short documentary highlighting the project's most astonishing findings. It's the type of enterprise watchdog journalism that exemplifies excellent local news coverage."
6. Reporting by Newspaper with a Circulation Under 100,000 – Julia Martin, Christopher Maag, Chris Pedota, Tom Nobile, Svetlana Shkolnikova, Keldy Ortiz and Team, The Record/NorthJersey.com, "He Murdered Three Women and Was Hunting a Fourth. These Women Outsmarted a Serial Killer"
"A compelling story that shines a light on important tropes in our national dialogue, including abuse of women, sex work, and mental health. The reporter not just tells the gory details of how a serial murderer killed women and was caught by his would-be victims, but gives a true voice to the voiceless that are far too often marginalized, shining a light back on what's wrong in our society. At the end, we were simply left asking, "Why isn't this a movie?"
7. Reporting by Independent Digital Media – Josh Dzieza, The Verge, "The Eighth Wonder of the World"
"With dogged reporting and clear-eyed writing, the Verge takes readers behind the scenes of an international scam that needlessly disrupted careers, leveled homes, took local officials on an on-again/off-again rollercoaster ride and left state's taxpayers holding the bag. The story reveals the political, economic and human toll on a years-long, high-profile project that has yet to get off the ground, and likely never will."
8. Magazine Personal Service – Sylvia Varnham O'Regan, GQ, "When a Psychic Reading Costs You $740,000"
"A well-researched and reported feature that shone a light on a little-known industry. Who hasn't walked past a psychic's shopfront wondering what went on inside? Now we know! Reporter Sylvia Varnham O'Regan did a masterful job uncovering scammers among the psychics and their victims, including a woman who lost $740,000. Peppered with interesting nuggets and insightful details, this story gives the reader insight into the fascinating world of psychics, and that is why this is our winner in the category."
9. Magazine Profile – Danielle McNally, Gillian Laub, Maria Ricapito, Sally Holmes and Stephanie Clifford, Marie Claire, "The First Year Out"
"The First Year Out" is the masterfully reported, beautifully written story of an incarcerated woman and the challenges she faces upon her release from prison just before she is to turn 40. Writer Stephanie Clifford was there to see Makeda Davis emerge from Bedford Hills Correctional Facility, greeted by her mother and grown daughter. Clifford steers clear of easy judgments but delivers a vivid, empathetic narrative that is blended with an examination of the many obstacles and deficits that a system-impacted person must overcome."
10. Magazine Investigative Reporting – Tim Schwab, The Nation, "Bill Gates's Charity Paradox"
"First this was an extremely difficult decision for the judging committee. We selected Bill Gates's Charity Paradox as the winner. The three follow-the-money stories revealing The Gates Foundation?s numerous conflicts of interest, abuses of power and influence on global health and COVID-19 pandemic response make up a strong body of work, exemplifying the best of investigative journalism, and creating a clear. concise, timely, and thorough article, with compelling supporting visuals."
11. Magazine Feature Reporting – Meridith Kohut and Simon Shuster, TIME, "The Fight of Their Lives: One Month Inside a New York Hospital as a Virus Took Over the World"
"TIME's Kohut and Shuster explored the complex dilemmas that frontline healthcare workers wrestled with as they battled an unseen viral enemy. The premise of the magazine feature format is to offer an in-depth look beneath the surface of a particular subject and this entry exemplifies that by utilizing powerful yet humble, narrative-driven storytelling to demonstrate the costs and tolls of heroism behind the bold-faced headlines."
I will never ever forget reading one of the first drafts of this incredible piece of reporting from @shustry and @MeridithKohut. I was working part-time as a TIME fact-checker from my parents home in North Carolina. It shook me to my core. A very very well deserved win! https://t.co/nCRKcp8od3

— Currie Engel (@CurrieEngel) May 18, 2021
12. Arts Reporting – Talya Zax, The Forward, "Philip Roth doesn't live here anymore"
"Talya Zax's piece for The Forward on the quiet friendship between Philip Roth and Russ Murdock, a stonemason and the caretaker of Roth's home, was revealing and moving. It felt like a profile, an investigation, and an obituary all in one—fantastic arts journalism."
13. Sports Reporting – Matthew Futterman, The New York Times, "Sledhead"
"This piece engaged readers with its in-depth exploration of the dangers of head trauma in sledding sports. With descriptive details, anecdotes, interviews and extensive research, it brings to light the disturbing stories of the impact of these injuries on athletes. The stories tell the tale of how time, training, and the track affect who escapes unscathed and who suffers serious results in sports like bobsledding, luge and skeleton. It is an interesting, revealing and fascinating series."
14. Business Feature – Christopher Cannon and Josh Eidelson, Bloomberg Businessweek, "How the American Worker Got Fleeced"
"Superb piece on how the rules of labor are stacked against the little guy, and how that fact hit home during the COVID-19 Pandemic. Well reported, first-person accounts explain the damage that was years in the making, then goes on to describe how the emergency could become a turning point for labor relations going forward, possibly swinging the pendulum in the opposite direction. Excellent work."
15. Business Investigative Reporting – Juliet Linderman and Martha Mendoza, The Associated Press with the Global Reporting Centre and FRONTLINE, "Deadly Shortages: America's Medical Supply Crisis"
"The AP and Frontline are to be commended for painstakingly documenting the reasons for shortfalls in the nation's supply of personal protective equipment and other needed supplies that became all too apparent during the pandemic. In the face of an oft hostile White House and other government agencies, the reporting team continued to pursue on-the-ground reporting to show how the federal government failed to correct the nation's over-reliance on a foreign supply chain, resulting in deadly consequences."
16. Science, Technology, Medical or Environmental Reporting – Simon Shuster, TIME, "The Fight of Their Lives"
"Time Magazine's "The Fight of Their Lives" by reporter Simon Shuster and photographer Meridith Kohut stands out in a year of Covid reporting as a deeply moving, nuanced and intimate chronicle from the pandemic frontlines of Wyckoff Heights Medical Center in Brooklyn, site of the city's first reported Coronavirus death, serving mainly black and Latino working-class patients. The duo suited up daily in full protective equipment for a six-week embed to document the terror, caring and courage of the embattled health care workers. Shuster vividly reports the sounds, smells, sites and emotions. Kohut brings an empathetic, graphical eye to memorialize the throat-catching moments. Tremendous work."
17. Opinion Writing – Nicholas Kristof, The New York Times, "Fighting Abuse, and a Deadly Virus"
"Original and outstanding opinion journalism. Nicholas Kristof warned readers in February, before the World Health Organization, that COVID-19 could be a severe pandemic. Once the outbreak had taken hold, while many Americans were still refusing to take precautions, Kristof figured out a way to show them what they were risking: he cut through a thicket of red tape and health privacy regulations to give his readers an up-close and unflinching view of what life—and death—are like inside two hospital ICUs overwhelmed with COVID-19 patients. Finally, he drew back the curtain on a website called PornHub to show how it monetizes and brutalizes many of the women and girls whose images are posted there—without their consent."
18. Spot News Photo – Petros Giannakouris, The Associated Press, "Fleeing Fire"
"This is a snapshot of our modern reality of a crisis on top of crisis on top of a world-wide crisis. Displayed is a trifecta of tragedy, an arson fire, the spotlight on the refugee problem as well as the COVID-19 pandemic. The strength of Petros Giannakouris' photo is its composition, depth of field and lighting. In one spontaneous moment an entire story of fear, exhaustion and perseverance is captured."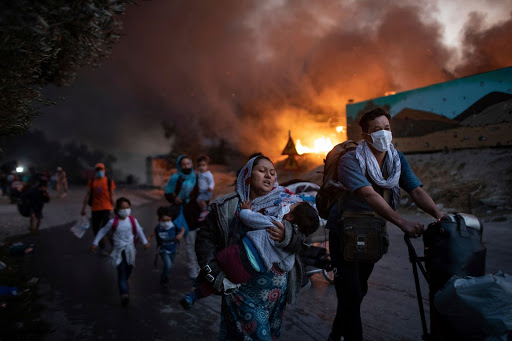 19. Sports Photo – Conrad Williams, Newsday, "By The Face"
"This photo captures the intensity and determination of competitors in amateur wrestling. Its focus on the faces and the moment when one wrestler gains an advantage over the other draws viewers in and would encourage them to become readers of an accompanying story on the match to find out what happened and how it turned out."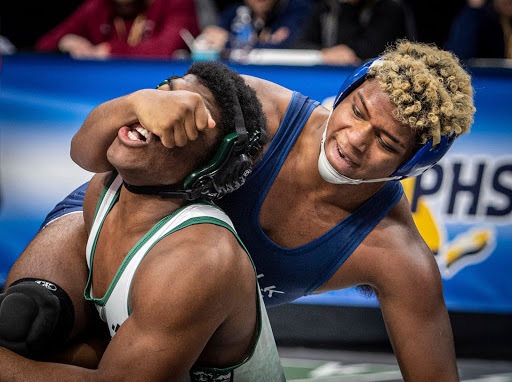 20. Feature Photo – Rodrigo Abd, The Associated Press, "Accompanying Jose"
"In a category full of powerful images, the judges agreed that this photo by Rodrigo Abd for The Associate Press stands out both for its emotional imagery and for the newsworthiness of the story it tells. In a year full of powerful news coverage, this photograph manages to encapsulate the depths and difficulties of the global pandemic by focusing on a single moment in the single story of a single life."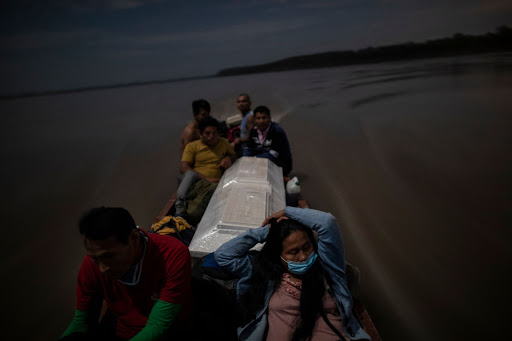 21. Multimedia, Interactive Graphics, and Animation – David M. Schwartz, Jeffrey Basinger and Paul LaRocco, Newsday, "The Grumman Plume: Decades of Deceit"
"The comprehensive research from this nine-month endeavor shines through in an in-depth exploration of polluted groundwater on Long Island. Extensive interviews and revealing anecdotes provide important context. This superb reporting led officials to take new measures to fix a deeply troubling situation."
22. Digital Innovation – Alison Killing, Christo Buschek and Megha Rajagopalan, BuzzFeed News, "China Built A Vast New Infrastructure To Imprison Uighurs"
"How does one go about investigating a humanitarian crisis in a foreign country that is hostile to journalists and has no concept of a free press? BuzzFeed News revealed the scale of China's deception: The rapid construction of a vast infrastructure of incarceration camps to ensnare the country's Muslim minorities and annihilate their culture. BuzzFeed then rendered the plight of China's persecuted Uighurs, Kazakhs, and others in flesh and blood by telling the stories of two dozen people who suffered through the system. This is journalistic innovation at its best."
23. Radio or Audio Spot News Reporting – Steve Kastenbaum, Westwood One News, "New York City Protests"
"Steve Kastenbaum's reporting on the civil rights protests in New York City over this past summer demonstrated strong, as well as balanced, reporting. The 'day-of' reporting was comprehensive and superb, but the follow-up reporting on peaceful protesters diffusing tensions with police was equally crucial, painting a fuller picture and therefore rendering the story in all the complexity it entailed."
I'm incredibly honored to be chosen from among my esteemed radio colleagues who were also in this category. I'm grateful for the outstanding things the judges said about my coverage of the protests. So meaningful to get this award in the wake of the demise of Westwood One News. https://t.co/CAZs9CMqP3 pic.twitter.com/ZofbIhkNh6

— Steve Kastenbaum (@SKastenbaum) May 18, 2021
24. Radio or Audio Feature Reporting – Mike Hixenbaugh, Lata Pandya, Julie Shapiro, George Lavender, Marshall Lewy, Hernan Lopez and Steve Lickteig, NBC News Digital and Wondery, "Do No Harm"
"This piece offers an inside view of how a misdiagnosis and a system set up to protect children can turn the crisis of a child's innocent injury into a legal nightmare for a family. From the investigative work to the production quality, the expert interviews and the parents opening up about their grief, this is the kind of audio journalism that stands out."
25. Radio or Audio Investigative Reporting – Alissa Escarce, Max Siegelbaum and Mazin Sidahmed, Documented with Latino USA and Type Investigations, "At the Mercy of the Courts"
"At The Mercy of the Courts" achieves precisely what a great story should: It struck a perfect balance between illuminating reporting and gripping, relatable personal detail. Listening to it was a revealing experience, not only in terms of abusive practices within the U.S. immigration court system, but also the depth of personal struggle and heartbreak involved in grappling with that system."
26. Digital Video Reporting – Arpita Aneja, Emily Kassie and Margaret Cheatham Williams, TIME and The Marshall Project, "Anatomy of Hate"
"A captivating film from beginning to end. The filmmakers had amazing access and they used it well, particularly in how they carefully included the story and interview with the killer. Engaging interviews, well-paced editing, and gorgeous cinematography set this entry apart."
So proud to be a part of this extremely important doc directed by @emilykassie https://t.co/ik4OFL1Tln

— Arpita Aneja (@ArpitaAneja) May 18, 2021
27. National TV Feature – Carol Ross, Lee Cowan, Rand Morrison and Sari Aviv, CBS Sunday Morning, "Americans Without Water"
"In this powerful testament to the inequality in our country, and the lack of political will to serve minority communities, Lee Cowan and his production team unfold the striking story of forgotten cities and towns where two million Americans have no clean water, if any at all! With moving interviews, in-depth reporting, and unforgettable footage, they shine a light on citizens struggling, and the nonprofit organization that is answering their call for help."
28. National TV Series or Investigative – Alysia Santo and Elaine McMillion Sheldon, The Marshall Project and FRONTLINE, "Tutwiler"
"This piece was a window into a world we may not have otherwise have seen. While the access to the incarcerated women alone was impressive, it was what the team did with that access that really shone. The way this piece was shot felt intimate, and made it clear that the team spent a lot of time with the women and built trust. It allowed the viewer to see the story unfold, rather than telling the story, which created a level of empathy that might not be traditionally seen around this topic."
29. National TV Spot News Reporting – Carlos Arboleda, Dana Roberson, David Kreger, Hari Sreenivasan and Sally Garner, PBS NewsHour Weekend, "Ruth Bader Ginsburg"
"Comprehensive spot coverage of RBG's death. The reporting provides a strong understanding of her life and legacy, but also provides solid context of the political ramifications of her death."
30. Local TV Feature – Dan Komarinetz, Spectrum News NY1, "COVID Clap Out Celebrations"
"This was an inspiring feature at a time when New York and the country really needed one. Moving without being overly sentimental, it was ambitious, sweeping and well produced. Far and high the best of the bunch."
31. Local TV Series or Investigative – Alan Flamenhaft, Jean Salzarulo, Pauline Chiou, Scott McGee and Tara Rosenblum, News 12 Westchester/Hudson Valley, "Leaving to Live"
"Great entry! Powerful stories. Well written, shot and produced. A joy to watch!"
What a wonderful surprise after a long day of breaking news! So incredibly honored to receive this distinguished award alongside my cherished #TurnToTara team. Love that the judges especially pointed out the editing and photography in this story. Go @News12WC @AlticeUSA @News12 ! https://t.co/dFTAbtw4ae

— Tara Rosenblum (@tararosenblum) May 18, 2021
32. Local TV Spot News – Staff, Spectrum News NY1, "Tropical Storm Isaias Team Coverage"
"Comprehensive, well planned and organized. It was clear they laid out a plan for coverage and executed it very well. Great description with critical information communicated. They told us what we needed to know as the storm unfolded."
33. Daniel Pearl Prize for Investigative Reporting – Mike McIntire, Russ Buettner, Susanne Craig and Staff, The New York Times, "The President's Taxes"
"This magisterial New York Times effort will be cited in journalism classes for years to come as an example of dogged reporting uncovering information that the most powerful person in the country very much wanted not to be uncovered. It serves as a master class in investigative reporting."
34. The Mosaic Award – Catherine Kim, Joshua Johnson, Janelle Rodriguez, Andre Brooks and Shalini Sharma, NBC News NOW, "Pride + Protest: A Conversation With Joshua Johnson"
"Pride + Protest was a smart, concise production that centered the voices of the community whose struggle it was raising awareness of and centered the Black and queer voices who are often unheard. The combination of broadcast, graphics, the strong questioning and hosting by Joshua Johnson and the engaging and illuminating content of the conversations made this a standout hour of television."
35. The Les Payne Award for Coverage on Communities of Color – Staff, ABC News Nightline, "Turning Point: What America Owes"
"Turning Point: What America Owes" deserves the Les Payne Award for Coverage of Communities of Color for how compelling, raw, thought-provoking, and effective storytelling the Native American, Mexican American and African American perspective is in regards to race, inequality and systemic racism."
36. Public Service Award – Staff, Reuters, "American Injustice"
"For a deep dive into an unfamiliar part of the justice system, told through compelling storytelling, rich infographics and difficult-to-access footage. This led to calls for legal reform, the resignation of a judge and a small step toward justice for a victim of unchecked authorities."
Very honored that our @reuters investigation into jail deaths was part of this winning entry. The full project can be found here https://t.co/KO0UqP9FBL https://t.co/6YpJbbKtDu

— Jason Szep (@jasonszep) May 18, 2021